My journey in Lübeck, Germany for 3 weeks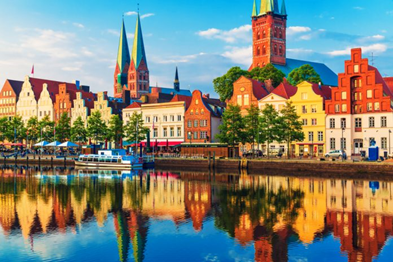 3/2-19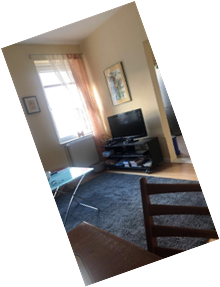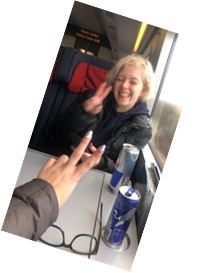 When I arrived in Germany I went to the apartment with my friend, we unpacked and then we went to go for a walk in Lübeck, to see the city and where the salon was.
4/2-19
I went to meet my contact persons to make sure everything was ok and then I shopped some stuff to eat to the next couple of days.
5/2-19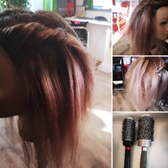 First day at the salon. I make tea, coffee, washed the costumer's hair when needed and swept the hair away. I also got an exercise-head so I could make something so it wouldn't be a long and boring day.
6/2-19


I maked some longhair styling and washed some costumer's hair.
7/2-19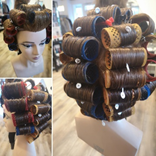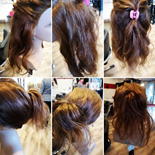 I roll some papillots up and then I maked a style when it was dry. Then I got again to wash some costumer's hair and swept the hair away from the floor around the chairs and got the product away from the table.
8/2-19
This day I got to color the boss's hair and dry hair with a round brush. I also did make some stripes on a doll and I cleaned the shelf that was around.
9/2-19
I got the day off, so I relaxed and cleaned the apartment. When the time was around 8 pm I got some makeup and close on and then I got to a party on a boat with my friend.
10/2-19
Stores are closed so there wasn't really something to do other than relaxed and then I got a large pizza from L'Osteria a wery good restaurant and the make big pizzas.
11/2-19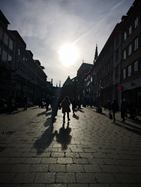 The salon was closed so I slept a little long. In the evening I got down to the store and bought food for the next couple of days. I got home with the food and then I got into the city to look a little to see if there was some close or shoes I wanted, the only things I bought was two shirts.
12/2-19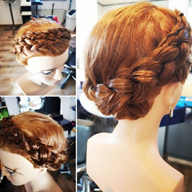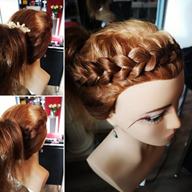 When I got to work, I got an exercise-head with short hair and started to wash the head and then blow dry it with a round brush. Then I found a long hair head and maked first a braid just in the front of the head with a butterfly claw and after that I maked a crown hairstyle.
13/2-19
At the work I folded some towels, washed the customers hair and I even got to color the customers hair. I also colored the boss's and the assistant's hair.
14/2-19
Valentine's day… so I was away from my boyfriend so we couldn't spend the day together. This day at work I got to blow dry the customers hair and I got a new hair color (grey and lavender). After I went to work, I should go to my friend's salon and then we got picked up my one of the assistants in the salon to go playing mini golf in UV-light.
15/2-19