Erasmus diary by Christopher Henriksen
Monday 24.
I was very tired when I woke up, due to the fact we arrived at around 1 am. There were some bread, jam and milk that we could have for breakfast this first day.
Kadri picked us up outside "The Oaks" (this was the house we were living in), and I was introduced to Lauraine who was me and Sarah's boss while working here. Then we got showed around, got some papers with information about the place.
We had the rest of the day off, so most of us went to town, to get some buscards and I joined a gym.
We made some burgers for dinner and the whole group ate together.
Tuesday 25.
I was up around 6:30 am because Sarah and I had to work from 7:00. We were told that we had to work apart from each other, so I joined Ann Marie, Maxine and Amanda. First Ann Marie and I started cleaning some of the classrooms of the college. We had a great time talking about Danish versus English traditions, and we were just taking it easy, no rush. I got off work at around 1 pm.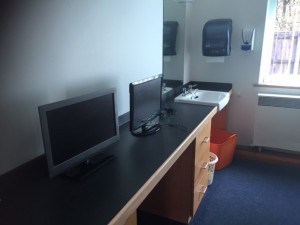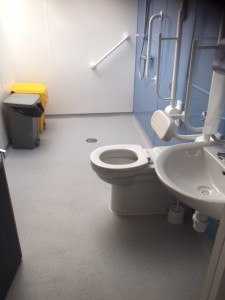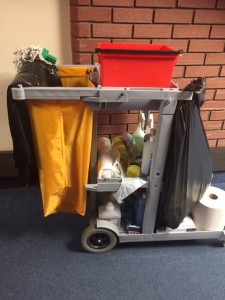 When the rest of the group got off work we wanted to check out The Four Seasons which were the mall of Mansfield. When we got there it was almost time for closing, so we pretty much only got to see the Poundland shop.
Then when we wanted to go home the bus didn't show up as planned, and we waited forever before we got to the college.
Wednesday 26.
I was with Ann Marie again today, and we did the same routine as yesterday, but I went with Maxine after Lunch. We made the rooms of some of the disabled students who is living here. I have noticed that they use a lot of parfumes in their soaps compared to Denmark, you can really smell it. I think the cleaning standard at the college is lower than what you would see in a similar institution in Denmark. I don't know if its just here, or if its like this in all of England.
The rest of the day I was just resting.
Thursday 27.
I was working with Maxine today, we are not doing anything special, just the usual cleaning. When we had our break the girls told me that Thursdays are students-night, meaning the drinks are cheap on the pubs and bars.
When I got off work I went for a long walk in the forest, by myself. The forest is very beautiful and it was so calming just hearing the birds and breathe in the fresh air.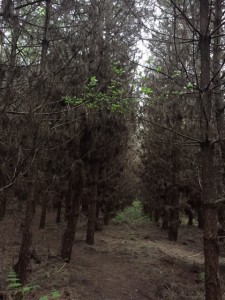 When the group was done eating etc. we went to a pub called The Talbot, where we got some beer and drinks and had a great time. We decided to go to a club so we walked downtown and found a one. After this club the others went home, only me and Julie continued, which we should not have done, we ended up walking all around Mansfield because we got lost and we were back at the college around 5:30.
Friday 28.
I got to work at 7.00, I told the girls about my night out and we had a laugh about it. They let me go a bit earlier today, and they got me this letter saying how happy they were for having me work with them, and Ann Marie had translated her text to Danish,. It was so nice to get such a letter. I went and had a nap and when I woke up me, Julie, Mads, Sisse and Mette went to see Nottingham. We have heard about the "City of Caves", which were some old caves underneath Nottingham and is located under a shopping mall. It was very interesting learning about some history. The caves where dug from around the Viking age, and had been used all the way up to the 1940s.
Me, Morten, Michael, Line and Sarah went to Pizza Hut for dinner, and it was great. The rest of the night we just relaxed, because we knew we were going to London the following day.
Saturday 29.
We were all up early and our busdriver Craig picked us up at the college. We now had a good 2-3 hour drive till we got to London, we stopped at the other side of the London Eye and this is where Craig would pick us up again later. We teamed up split our ways.
Me and Morten started out by going to Starbucks for some energy, and then we just started walking and walking. We really just looked at clothes and stuff, and just talking about everything and nothing and had some food. I also bought a funny picture a guy drew of me. We were amazed by all the luxury cars, that was driving around!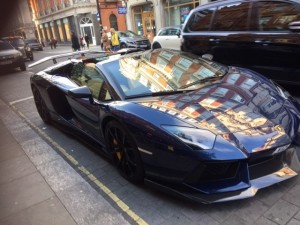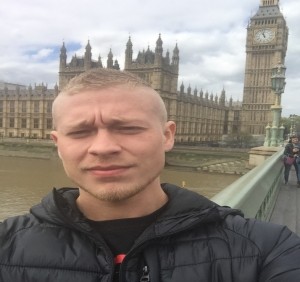 All in all we had a very good trip to London, but my body was destroyed when we were back at the college. I looked at me health app on my phone and it said the Morten and I had walked over 31.000 steps.
Sunday 30.
Julie, Sarah and I had made up our minds and wanted to get a tattoo. The tattoo prices in London were very high, so we wanted to see if we could find it cheaper in Mansfield. We had found some tattoo shops online, the first one didn't have time today unfortunately. The second one was closed, so we stood and talked about what we were going to do. I spotted a sign saying "TATTOO", we walked in and found he was closed as well, but to our luck he was tattooing a friend, and made time to make our tattoos. I paid 60£ for mine which is around half the price as in London.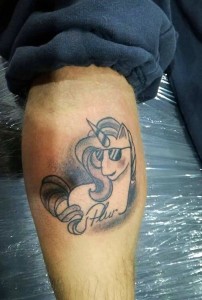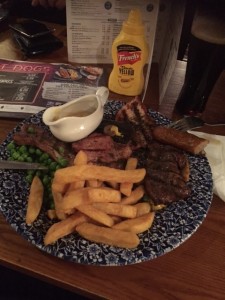 Later Julie, Line, Michael, Mads and I went to a pub, to get the famous Sunday Roast, but this was not a "thing" in Mansfield. We just found a pub where we could eat and it turned out to be the best meal I had on the trip.
Monday 1.
Today was Mayday, which meant we were off work today, so I could sleep till I woke up. The rest of the day I just relaxed and did some grocery shopping etc.
Tuesday 2.
Today I had to switch team with Sarah so I had to work with Sue and Lauraine. The only difference from working with Sue & Lauraine, and the other 3 girls was, that I tried the rug cleaner. We had a great time working together, I think they are very nice and funny. I got off a little early.
Wednesday 3.
There was nothing much to do today, so I was let off little early again. I went to the gym and did some shopping afterwards, nothing much happened today other than having a good time with the group. I am starting to miss home a little bit.
Thursday 4.
I am having a day off tomorrow, so lauraine and Sue give me a card they've made, also saying how happy they were for having me. We finished work, and I went to the gym.
Julie and I had been to Mansfield just chilling around, but when we had to go home we had to wait for the bus for a long time! But we met this guy John at the bus stop and he was very, very funny so it felt like the wait wasn't that long.
Friday 5.
Today we had lunch at the Restaurant Line worked at, the food was so good. After the food we had to do our presentations. The rest of the day I packed my luggage and just waited for our night out, before going home.