Diary
Sunday d. 23/4
The big day has arrived, I thought it would never be this day so I couldn't quite believe it. We should meet at the airport at 19:10, so we drove from my home at 18:20. On the way to Kastrup, I thought of all the things I had forgotten… Camera, Oistercard, Pounds and more. But long as I had my passport, everything would be alright.
We met at Terminal 2, and I said goodbye to my brother and mom, and checked our bags in. The lady who checked in my back was not so fast, so I was the last person who had my bags checked in.
I feared the security a little because I didn't want to wait in line, but Mette "flirted" a little with a security guard and we could get through the fast track. NICE! Line and I followed each other to our gate; F, and bought some food and something to drink for the flight. My last Faxe Kondi in 2 weeks….
The Flight was 10 minutes late, but that was okay, we were not in a rush. The flight to London was of course not long, so it was not a bad flight. I saw some Netflix and look out the window. There wasn't a cloud in the sky, so we could see all the lights from the cities both in Denmark and in England. Beautiful.
We landed 22:40 and all our bags was with us. Jaaay! A man with his daughter picked us up, and drove us to the College. We arrived at Portland college at 1:30 and I saw 4 rabbits jumping around at the road. We were shortly showed around by to sweet ladies. I was laying in my bed at 2:00.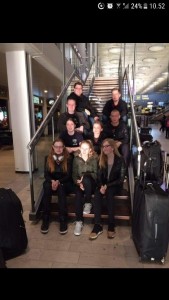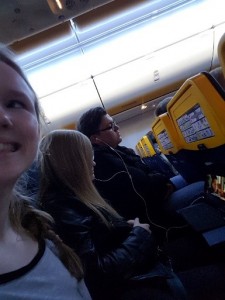 Monday d. 24/4
It was hard to get up this morning with not so much sleep, but it should be done. The school had bought us some toast bread and yogurt, so that was my breakfast together with a cup of tea. At 9:15 we met with Kadri and the other exchange student from Germany and Estonia. We were showed around Campus, and what I thought was really nice, was that they had a little farm with; pigs, goats, chickens, ducks, guinnipigs, rabbits and donkeys. We were let to a meeting room where we were told information about the school, and we introduced ourselves for the other student. Morten who is 2 meters tall asked as a joke if he could get an extra bed to his feet, when we were asked about our rooms. Then me and another student were shown the dining hall and where we should meet tomorrow. At the meeting, we got maps, a list of pubs and restaurants, bus plan and other useful things for our stay.
We were done at the meeting at 11:40, and we decided to go to the coffee shop, except for Line because she drove with Kadri to the school where she was supposed to make food. At one or two O'clock we walked to Mansfield, to by ingredients for burgers to dinner. It took about 40 minutes and after 10 minutes of walking it began to rain. I was the only one with an umbrella. We bought our stuff in Sainsbury, and took the bus home, where we could by a "mega ride card" for travelling between Nottingham and Chesterfield. We came home and chilled out in our chill out zone with some cards and Uno, I had bought some grapes and Line had some after eight. Morten noticed that he actually had gotten to beds! Hilarious!
At 7 pm we ate dinner all 10, and some took the dishes. I called home, to check on the loved ones… To do that I had to go outside because the wifi didn't work inside our house. I saw a lot of rabbits and some baby rabbits. I went to bed at 11 pm, after I had showered and unpacked my things.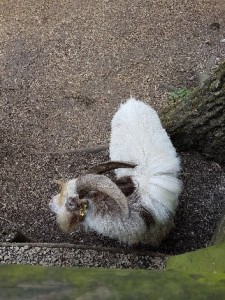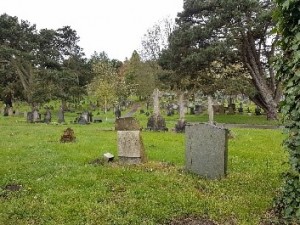 Tuesday d. 25/4
Today I woke up at 8 am, ate breakfast 3 bananas that I bought yesterday and was ready to meet with the other guys at the reception 9 am. Rachel came to get us, and followed us to the kitchen. When we've taken our close on we were shown around the kitchen, and then David Our chef came to brief us about the day. Julie and I should find some recepices for bread and cakes. We chose Whole wheat bread as buns, and the Danish medals. We asked David if he wanted us to do some Danish pastry, and we arrange that 100 Danish cakes should be ready Thursday morning at 7am. For lunch, I got a mushroom with rice, spinach and cheese on it, potatoes, carrots with sauce and a garlic bread. The four of us ate together. We made an ingredients list after lunch and started to make the custard for the medals. We left the kitchen at 2:45 pm and went to the coffee shop, to get internet. I looked up some ideas for our trip to London on Saturday, where the things were, what it costed and things like that.
At 4:30 pm, Line, Julie, Sarah, Cristoffer, Mads and me took the bus to Mansfield. We met Michael at the bus stop, and he followed us to the city. We went to 4 seasons shopping center and after that to Sainsbury. Line and I bought food for Dinner, breakfast for the next few days and Dinner for tomorrow. Then we decided to take the bus home, but we waited in 45 minutes, and were pretty tired when we got home at 7:45 pm. We put our food in the oven and held a meeting with Mette. After the meeting, we ate; Duck with potatoes and mayonnaise. The weather today was not showing itself from the good side, because it was raining almost all day with few clear spots. The evening was going with Cards against humanity together with the other exchange students.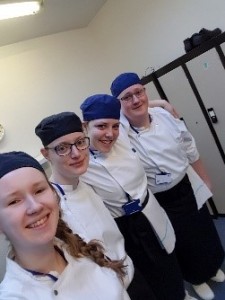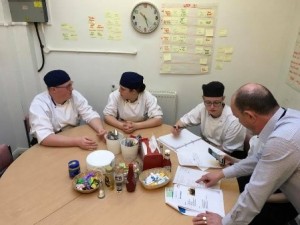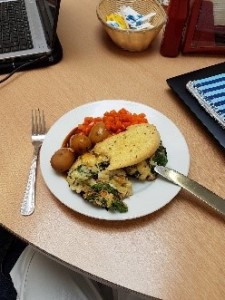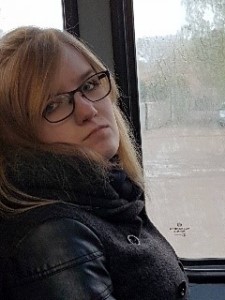 Wednesday d. 26/4
Julie and I decided that we would start in the bakery today at 8 am, so I woke up at 7 am to eat breakfast; yogurt, Frusli and some tea.
At 8:15 am we began to make the linse tart dough, and the Danish pastry dough. The margarine in England isn't the same as home so it brought some difficulty, but we fixed it. Julie made a mistake with the flour for the Danish pastry, because she was supposed to use the cold flour that I put in the fridge, but she used the normal temperature flour… When the two doughs were done, we put the Danish pastry dough in the fridge and used our cookie cutters for the tart dough. The rolling pin I used, was made from plastic, which were very frustrating to use, because it sticked to the pin. In the meantime, Julie made the dough for our healthy buns. Before we went to lunch we baked the tart and the buns. I got very salty turkey meatballs with potatoes, beans and tomato sauce with onions. After our lunchbreak, we started to put on icing on our top cookies. Yellow, white and purple, so we could recognize the different jam we were going to put in. Julie Mixed our custard from yesterday with some freshly made whipped cream, and I iced the last cookie tops. Then Julie made the calculation on the medals and I build op the cakes; Whipped cream, custard and different kinds of jam. 60 medals were done at 2:30 pm together with our buns we took some pictures. Then I began rolling out our dough for the Danish pastry. 100 pieces with remonce were folded and put in the freezer for tomorrow. We were done at 4:30 pm, and I was soooo tired. Luckily Line and I bought dinner yesterday: tomato soup, so we just put it in the microwave for 10 minutes and ate some grapes at the side.
The rest of the day I sat in my room with Line and wrote diary, mails and signs for the cakes.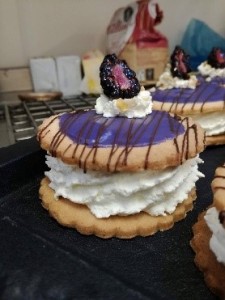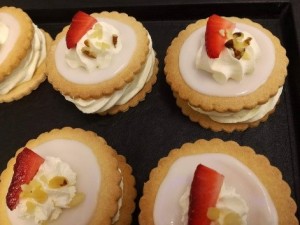 Thursday d. 27/4
As promised Julie and I would be ready with 100 Danishes at 7 am, so today we stood up early…. At least I did. At 5:40 am I hadn't seen Julie, so I knocked on her door to find out she was still asleep. To be able to bake all 100 Danishes we were supposed to be in the kitchen when it opened at 6 am, and Julie made it. We changed to our kitchen clothes and took the pastry out the freezer to fill them with jam and custard. Their ovens in the bakery part of the kitchen is very fancy. They have a proving program, so we putted ¾ of the pastry in the oven for proving and then baked them afterwards. We made a quick icing and putted it on when we took them out of the oven. Because off the margarine that they had, our Danishes didn't raise as we wished, put it didn't look bad. David loved them! We were supposed to give out free samples to this meeting called 2020, but they were to kind and would rather pay for the pastry than get them for free. About 9 am they were all gone and we cleaned up the kitchen Carry from the coffee shop came up to say hello before we came down to sell our Medals and whole wheat buns. We did not know at this point that they wanted us to sell them. We just thought that we could give them to Carry and that she could take care of it. But no. We in the coffee shop for three hours until the hygiene limited was reached for the 12 medals that were left. We made 30 pounds. While we were in the coffee shop, we got free lunch, a curry chicken sandwich. The last hour in the coffee shop we got some tea and coffee, and planed the next week's cakes. Carry told us, what sold well in her shop, and we tried to match that in our plan. At 13:30 we went back to the kitchen with the rest of the cakes. We thought that we could get the day of at 2 pm, and actually we could have, but David had hired a chef from Rational (an oven company) to show us how smart these ovens were. And we couldn't miss that, so we stayed 2 and a half hour more till 4:30 pm. This oven was so smart! It had thousands of settings and we made a lot of different food at the same time in that oven. When we were done, I was soooo full and couldn't eat more that day.
We had planned that we should all have a night out in Mansfield, because David said that we could take the day off tomorrow. We went to a pub called the Talbot, because we had heard that there would be live music. But we found out that it was cancelled, so we went further down in the city to find a place to dance. At 11:45 pm Line, Mads, Michael and I took a taxa home. And went directly to bed.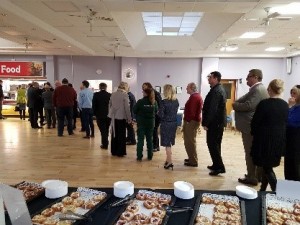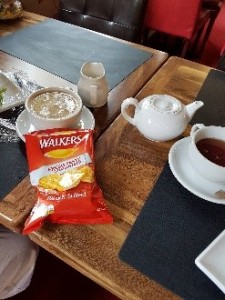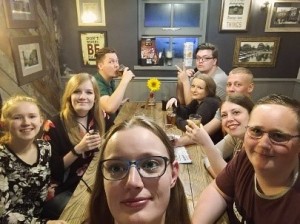 Friday d. 28/4
I was woken up by Sisse at 11:30 am. Sisse, Mads, Julie and Christoffer wanted to go to Nottingham, and they wanted me with them so at 12 a clock we took the bus. In the bus, we talked about what we should do in the city, and we all agreed on seeing the city of caves under need a shopping center. First we walked around Victoria Center, and after that we found a KFC to eat some lunch. I've never eaten at KFC before but it was actually not that bad. I led the way to the city of caves and after 15 minutes we were in the shopping center. The caves weren't the greatest experience, but it was fun and sometimes interesting. After we were done in the caves we went shopping a little bit, I got a dress and a knitted dress-ish. Pound world was our next stop. I bought some frusli and some sweets. Then we went home, and bus was just about to leave when we came to the station, so it was so timed. We were home at 5:30pm. I ate the rest of my soup from Wednesday, while I was talking to my friend at home. At 9 pm we hold a meeting in Mortens bedroom about what we would do in London tomorrow. We found out who was going with who, and what each of was wanted to see. Line and I agreed on seeing a musical together called kinky boots, and we wanted to visit Borough market, and just get the most out of the day. I went to bed at 11 pm.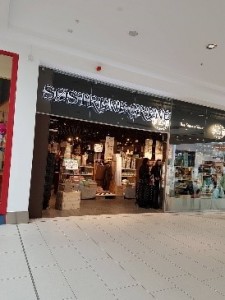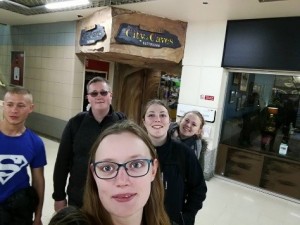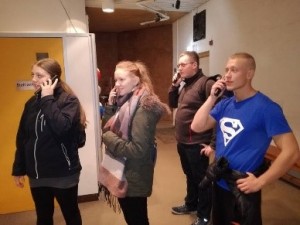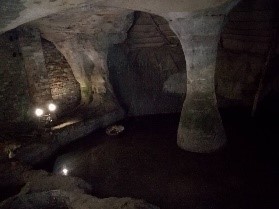 Saturday d. 29/4
LONDON!! Craig came to pick us up at 7 am…. I wasn't awake before 6:35 am because of mine alarm clock. Sarah knocked on my door to wake me up. I almost swallowed my breakfast to get ready in time. Julie had made us eggs, and I had a yoghurt left and some frusli. I packed and peed and was ready at 7am, but the rest wasn't…. Line was the last to get into the bus. Before we went into London city we stopped at a tank. I bought some water and some strepsils, because my throat hurts. We were at Westminster at 11 am, and because of Lines and my planes we went directly towards Westminster underground to buy a day travelcard. Our next stop was Trafalgar square, past Big Ben and Westminster Abbey. Trafalgar square was a bit of a disappointment, because it was closed. We could only see some of the beautiful statues and the fountains. I really liked the traffic light, because it was men and women signs. We went down Strand towards Adelphi theatre, and on the way, we saw a Japanese pastry shop. The cakes in here looked like soap, we bought the only cake that didn't look like a piece of soap. Line and I shared the funny looking "cake" and reached the theatre. The man behind the desk wasn't very committed, but we got ourselves tickets to the 2:30 show. Then we took the tube from Charing cross station to London bridge station. We needed to change from the Northern line to Jubilee line. Borough market was our target, and it was near by the station. The Market was so nice, and there was so many stalls with different kinds of interesting food. After exploring half of the market, we bought real fish and chips to share and looked at the rest of the market, we saw a watermelon radish! On the way out of the market we bought a lemon pie with merengue and we saw Southwark Cathedral. Beautiful! We went out on London bridge with our cake, and enjoyed the view to Tower Bridge and tower of London. It was musical time, and we went back with the tubes to Charing cross. When the tube stopped the doors we were in front didn't open, so we headed towards the next door, jumped over a wheelchair and I almost didn't make it out of the tube. The moment I jumped and was in the air the door closed. We came alive out of the underground so everything was good. At 2 pm we stood in Adelphi theatre. Our seats were as far from stage as possible, but it was okay for the money we gave for it. The show was fantastic and it had a very good moral. Don't be afraid to be who you are. In the break, I bought a 7up. When it was done we went out to find kind of a china town, but we didn't find it. I asked Line if she wanted to go to Covent Garden instead, and then we did. We took the tube there and watched the busy market with a lot of street artists, then we went back to the Soho area looking for something to eat. On the way, we saw the Golden square and a Nordic bakery where we went in. We talked to the shop assistants about what their cakes were called in Danish, and they had a lot of very wrong cakes and breads. 15 minutes after, we found a fine place to eat. The food wasn't fantastic but it was also kind of cheap. We both got a flat steak with garlic butter and chips with mayo, and a coke. They forgot our dessert so we got some tea for free, that was good for my throat. Line got an apple crumble cake and I got some fruit with chocolate sauce. We planned our way back to the bus while we were drinking our tea. We took the tube from Oxford circus station to green park. We walked/danced trough the green park to Buckingham palace, and trough St. James park. Beautiful all of it! We met the other guys at Thames and looked at the beautiful buildings and London eye with lightning.
We were home at 0:30 am and we went to bed.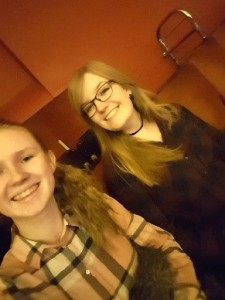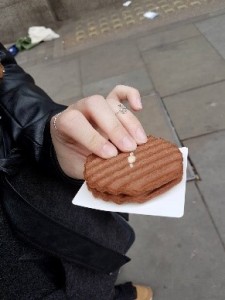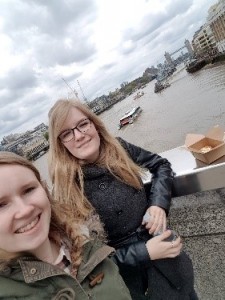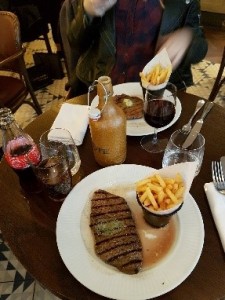 Sunday d. 30/4
Today I woke up at 10 am not feeling very well. So, I decided to make some breakfast and a cup of tea and stayed in bet until 12 o'clock, watching Netflix. Line checked on me at 12 and asked if I wanted to right diary with her, we did that in many hours while we talked and had fun with the other students. At 7 pm, Michael, Julie, Mads, Chistoffer and Line went out to eat and get something to drink. I stayed home, got some dinner and cleaned the kitchen. Went to bed with a cup of tea, and hoped that I wouldn't be sick tomorrow.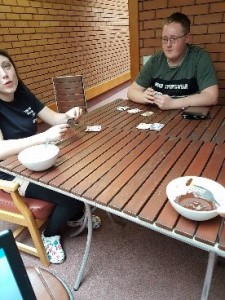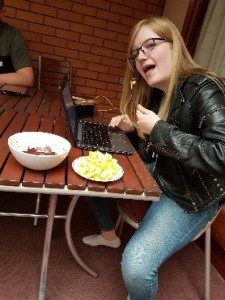 Monday d. 1/5
May Day, May Day. The 1st of May, everything is closed and everyone has the day of (okay not everyone, but us). I really liked that we shouldn't go to work today, as I was still not feeling that well. Line and Julie knocked on my door at 10:30 am to hear if I was alright. I was coughing my throat up, and Julie brought me some tea. I wasn't feeling hungry, so I just laid in my bed till 3 pm. Where Line decided to give me some fresh air… A.K.A she wanted to go for walk in the forest, but she has a terrible sense of direction, so she needed me…. And she wanted a new profile picture for Facebook. We were gone almost an hour. It was a great walk. When I got home, people had brought me soup, yoghurt and KFC. So, KFC was the first thing I was having that day… Very healthy. After KFC I went to bed again and watched some Netflix. For dinner, I warmed the soup (600g) and ate it all before going to bed. That was nice for my throat.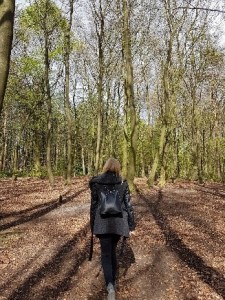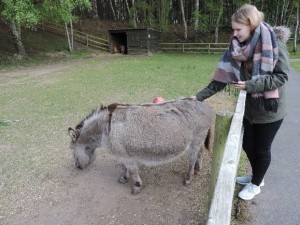 Tuesday d. 2/5       
Up at 8, work at 9. My breakfast; Yoghurt, frusli and tea. Off to a great day, making Victoria sponge, Dream cake and "you know, THAT one". I was feeling a little better, but I was still coughing. David was very surprised by our calculation, that we could make such cheap cakes. We started around 10 to make the cakes after our calculation was done. I was making the Victoria sponge and the "you know, THAT one". We wanted to put some butter cream frosting on the cake, as roses. So I died it pink and piped it on the cake. I don't really get the English cakes, because it's just a lot of cake dough instead of tastefully mousses. This Victoria cakes is just to large sponge cake and then a tiny layer of jam between those. And that's it!? Of course, we topped it off with some butter cream but that's not how you usually do it. When I was done with the Victoria sponge cake I began with the "you know, THAT one", and I popped that into the oven and when it came out, it looked amazing. I cooled it down, while I was making the coconut topping and it was still very soft and looked amazing. When I was done with the two cakes we ate lunch, pork with potatoes, tomatoes and sauce. It tasted okay, but it wasn't that good. After our break, I started to make the signs for the three cakes as Julie wasn't done with the dream cake. When we were all done, we went down with the cakes and signs to the coffee shop, and gave it to Carry.
I didn't have any food left, so very late Line and I (Two very hungry girls) went to Sainsbury to buy some food for the next couple of days. We went crazy in that store and bought so much food and dessert. We were home at 6 pm, but the kitchen was full, and we couldn't make our food, so we just labeled it, and putted it in the fridge. We decided to take the dessert first. Life is unpredictable, eat dessert first. We ate it in my room while seeing a movie (DUFF). Of course our ice-cream was melted, so when Line opened it, there was ice-cream all over my bed… We fixed it, ate the rest of the ice-cream and saw the movie. After the movie, we went to the kitchen to make dinner. Two steaks with garlic butter, and a lot of chips with mayo, we started eating around 9 pm. And were done very late, so after the dinner, we washed our things, brushed our teeth and went to bed.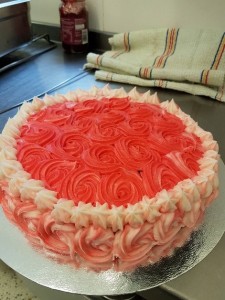 Wednesday d. 3/5    
Cupcake day! Julie and I decided Thursday to make cupcakes today. I found a recipe for chocolate cherry coca cola cupcake, and Julie wanted to try a rainbow cupcake. We were at work at 9am, and we started to make the cupcakes after we had calculated. My cola dough was amazing, but the oven baked uneven so they looked funny. When they had cooled of, I filled the center with a chocolate cherry ganache, and colored the buttercream. Julie, who died her dough in different colors, had it all over. On her arms, hands and in her face. I pipped the cupcakes and popped them into the fridge. Then we ate breakfast; Rice, chicken and poppadum. After we ate, I showed Julie all my tricks for making a good cake sign, and she made one for her rainbow cupcake, and I made one for mine. When we were done, we took our cupcakes done to the coffee shop to carry. We were done half past one, so I waited for Line in my room, because we wanted to go Nottingham for afternoon tea. I had found the cutest little place called Ila's little tea shop, not far from the station. We found it at 3pm and Ila was sooooooooooo sweet! We got our afternoon tea with two different kinds of sandwich, scones and a toffee/banana cake with some fruit and a raisin cake. Lots and lots of tea and chips with it. When we were done, we talked with Ila, and when she found out that we were a chef and a confectioner, she immediately wanted us to come and work for her. We got a big hug and photograph with her before we left her shop and took home. When we came home I was very tired and not hungry at all, so I went to bed and talked with my friend from Denmark, took a bath and went to bed.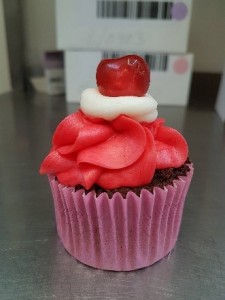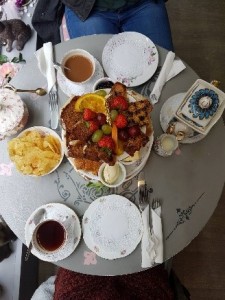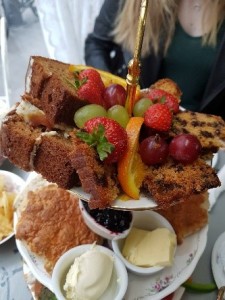 Thursday d. 4/5
Our last day at work in England. Julie and I made a deal with David, that we would make some bread today. At 9 am, we were sitting in the staff room to find out which bread we should make. Polish farm rye bread and burger buns, and three hours later they were ready. After lunch; lasagna, sweet potato chips and garlic bread. We went done to the coffee shop to see how the sale with our cupcakes was going, and it was going pretty well, then we went back to the kitchen to take a picture with the whole kitchen staff. We cleaned the kitchen and said goodbye to Rachel and David in their office, and they gave us 10 Pounds each. Then we hugged the staff goodbye, changed to our normal clothes and went to our rooms. I thought that I had made a deal with Julie to go down to the coffee shop to taste our cupcakes, but she must have misunderstood what I was saying because she took the bus to Mansfield with Sarah and Christoffer to get afternoon tea. Then Line and I sat outside the coffee shop to get cupcakes and tea. We went back to relax before our dinner. I popped a pizza in the oven, Line popped a curry meal with rice in the oven and we shared some potato chips. At 8pm we met with Mette to get some information, and to fill out some evaluating paper. Then we sat in my room writing diary and talked before we went to bed.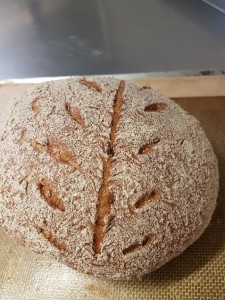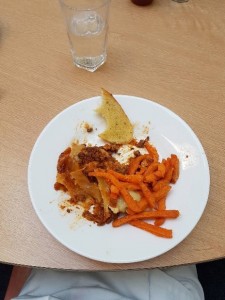 Friday d. 5/5
Today I woke up at 9am, went to the kitchen after the energies smoothie I'd bought and a frusli to eat in bed, while others were out riding horses.  Then I prepared Julie's and my presentation for later with Kadri. At 11:30 I stood in front of the Oaks with the other students heading to West Nottingham College to eat lunch at the Refined, were Line had worked the last days. The school was very big, and looked impressive outside and inside. The restaurant was a beautiful place, but the food could have been better. I got a gammon steak with mashed potato and pees, for dessert a trifle with raspberry. There was no taste in the dessert. But the company was good and we had fun. After the dessert, we were showed to a room where we could present our stay for Kadri and her boss, didn't get his name. When we were done, we got our certificate and we headed home to pack for tomorrow. We were home at 14:30 and I packed took a bath and Line braid my hair. It was painful, but the result was beautiful! At 18:15 I stood in front of the Oaks again to go out and have our last dinner together in England. Julie had earlier on the week found a good restaurant, and reserved a table for us. I got Spaghetti carbonara, and strawberry mess for dessert. Some of the others wanted to go out and celebrate their last day in Mansfield with some drinks and shots, but I knew that we were supposed to be ready at 6:15am tomorrow to leave Portland college, so after the dessert Mette, Morten, Sisse and I took the bus home, and went to bed.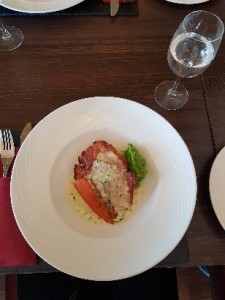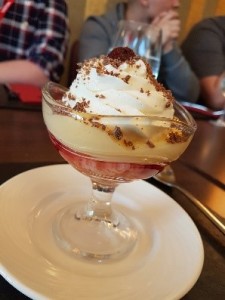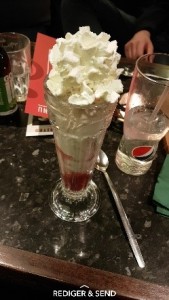 Saturday d. 6/5          
Not a very fun day was ahead of us. Up at 5 am, have some breakfast, pack the rest and sit in a bus for 2-3 hours' straight. I snore a little in the bus because I was sick, the worst part of the morning was that two people was very drunk from last night, and they acted silly. We reached the airport in Luton at 9am and checked our bags in after a quick toilet visit. Then Line and I found a place to get some sweet snacks and write diary, before our flight took off. The flight itself wasn't that interesting, but the stewardess couldn't remember what to say in the speaker, so at one point it was very awkward. The flight landed earlier than planned, but my father and his girlfriend picked me up, after I had said goodbye to the other guys.