Diary:
23.
We met outside lagkagehuset in terminal 2, where we said goodbye to our families. I was quite nervous I had to much weight in my bags, so I was the first to check my bag in and fortunately it was okay..
The line at the security was super long but we got to take the fast track, and skipped the entire line. It all went quite smooth, we shopped a little and went, and got on the plane (even though it was a little delayed).
On the entire flight, I was watching ghost rider with the guy next to me (Morten), and just chilling which made the flight seem like it was over in no time.
When we arrived it was quite late, but luckily, our bus easily picked us up, and I slept for the entire trip. We didn't really have time when we arrived for anything else than just having our key and going to bed, as the clock was somewhere between 2 and 3..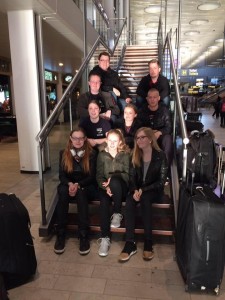 D 24.
I started the day by waking up way too early because you can hear everything in this house, so every time anyone opened a door the wind made my door sound like someone was standing outside trying to smash it..
But at 8 I woke up again, showered and ate my oats and müsli I had brought from Denmark. At 9 we all met and said hi to Kadri whom is responsible for all the exchange students. We had the introduction with all the other students living in our building, students from Estonia and Germany.
We started by getting a short tour of the school where we saw their small "zoo", with ducks, chickens, rabbits, pigs and even donkeys. It is obvious that it is a school meant for someone in a wheelchair, as everything is very accessible. And everything is very nice and looked after, not a spot anywhere.
After the introduction (around 12) Kadri took Mette (teacher) and me to see the restaurants where I will be working. I was a bit nervous if I would be able to find my way around, but it was not difficult and there were signs pointing to the restaurants, so now I think I know where to go.
When we got home again I went to the little coffee shop with Mette (teacher) and just chilled, as there was actually internet there but not in the house..
When I was gone, some of the other students had been out shopping for dinner. The rest of the evening was just chilling and getting to know each other, both from our school, but also the ones from Estonia and Germany.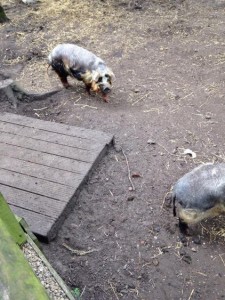 25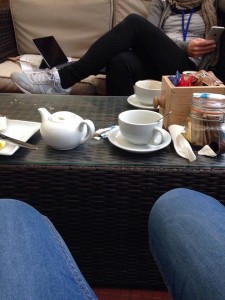 I start my morning as I always do, with a shower and oats. I know I need to be at the west Nottingham College in quite good time, and I need to buy the bus ticket, but because I need to wait a little for the bus and I forget half my stuff so I need to go back and forward a few times, I don't end up in super good time. But it is fine, I arrive 8:45 which is 15 min before, and I get introduced to the student I will be following around (Kyle). All the students in the kitchen get assigned a task each every day, and today Kyle and I am in charge of the salad bar, so most of the day I am just chopping and chatting with the other students, it is really nice. I am amazed by how nice and welcoming everyone is.
I am back home at around 15.30, where I go to the coffee shop for some internet (that is still not working), and I talk to Mette (student) about what we want to see in London when we are there visiting. We watch a few musical trailers, and talk to some of the other students. At 17 the coffee shop closes so we go back and agree that we will go to Westminster to shop for some food and explore a bit. We saw a shopping center (that unfortunetly was closing) and decided to come back another day instead.
Then we walked all the way to a big supermarket (Sainsbury's) where we bought some food (Mette and I shared and got food for two days). On the way back we needed to wait 45 min for the bus, so we were all hungry and freezing, but luckily the food were easy.
The rest of the day just went with chilling with the others and filling out some papers that need to turn in tomorrow, so I hopefully will get some internet.
26.
Today I stood up like normally, I ate my oatmeal and went on the bus to the college. I was in the relish restaurant again, where I was assigned a person I should be following around, his name was Declan. We were assigned the pizzas, so we got the recipe and started making the dough.
The first thing I noticed was how weird the recipe was, starting with the flour in a bowl then adding water.. I did it opposite like I has always done, starting with the water then adding flour. As a result of following the recipe, he ended up with a rock solid lump, trying to add water to it.. I was surprised by why the teacher just gave the recipe without mentioning that we could maybe do it the other way.
I enjoyed the day surrounded by nice people, even though their ventilation is so good that I was freezing like hell all day, like the day before, in a constant wind of the ventilation.
When I got home a little over 15 I went to the coffee shop once again for internet (still not fixed, even though I turned in the papers and the man said it would be 30 min, then working, but didn't). for dinner me and Mette ate the soups we had bought the day before.
I noticed I was beginning the get a really nasty dry cough, almost scratching my lungs, and pain in my throat.. I just hope it will pass soon, but I doubt it, after all the freezing and wind two days in a row..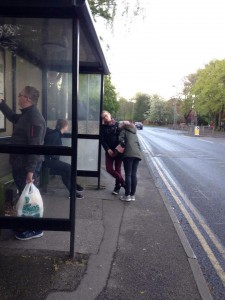 D 27.
Today I was in the refined restaurant. I met really early, in hope that I could maybe get a tour or something and they could show me where the clothes was and stuff.. With the result that I needed to wait 15-20 min for the chef and students to arrive. So moral of the story, it doesn't always pay of to be in good time.
When the chef came, he pointed to the student closest to him and said that I would be following her around today, her name is Cheney. She is just super nice, and she kept asking me if I was okay because it wasn't super busy, so I was standing a lot without much to do, but was fine to just watch and learn.
In the evening we all decided to meet up at 8 and go to the bar, that we a couple of days before had walked by and seen that it had live music after 9. When we got to the Talbot we could see no live band, and they had just started a football match on the TV´s that everyone was watching.
When it became clear that there was no band we talked about what to do, and we decide to go to at club area 20 min walking away. The others were pretty drunk, so it was probably quite a lot longer. We tried a few clubs, but they were all kind of weird..
After a while some of us took a cap home while the rest kept on partying. We were home first, and I think I was in bed around 2 or 3 o'clock.. but luckily I didn't really drink, so hangovers was no problem the day after.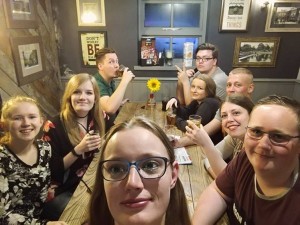 28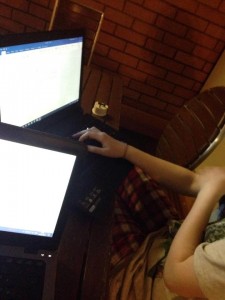 Today I had the choice if I would do the same as yesterday, or come with the same class to a kind of workshop. I decided to take the workshop, and I am very happy I did, because everything is so different.. it is so fun to see how they work and how they learn.
They each have an entire section, with stoves, gas, table and sink. But for some reason they don't have a washing machine.. it was still fun though, in Denmark we focus a lot on the different tastes and how the plate feels and look, and how to make your own recipe.
In the beginning I was very confused, the teacher was saying all this stuff, and giving no recipe.. We just needed to listen and try to remember what he said, but when it got to working and making the soup and sauce, it was much easier. Because I already knew a lot about taste and texture, I found the end part a lot less difficult and confusing, witch was nice.
When we were home, 5 of us was hungry and decided to go to pizza hut. It was very nice, and a good concept that I wish they had in Denmark. I shared a pizza with one of the other girls (Sara), and drank a glass of wine. We were finished quite fast, so after pizza hut we still had time to go to Sainsburys to get some food for the other days. My oats I had brought all the way from Denmark was almost out, so I bought some müsli that looked nice and healthy.
At 9 we all met and talked a bit about what we were going to do in London. Mette and I still have a deal to walk together, and we have a plan for what we are going to see, so I think it is going to be very nice.
D 29.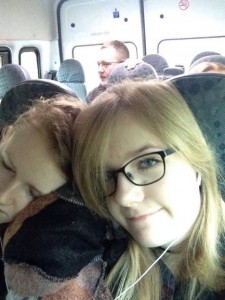 The bus was booked for 7 o'clock, and we decided to eat together 6:30. I usually sit in the evening and write my diary, and then go to bed around 1. So waking up at 6 was not something I was looking forward to, but it was actually not that difficult.
When getting out the door we were all super stressed, so I managed to forget my camera.. The night before I even checked the battery and put it so I would remember. But I still forgot.. Then I could sit in the bus for 3 and a half hour and think about how stupid I was.
The ride to London was fine, I slept a lot and talked to Mette.
In London we stopped right in front of London eye (on the other side of the Thames) and could see big ben from the car, so we were starting quite central.. We started with going to the nearest underground and buying a tube card so we could get around easier. From there we walked to Trafalgar square, so right by big ben and Westminster abbey. But when we got to Trafalgar square we were quite disappointed, as it was closed off, so we could barely even see the big lions.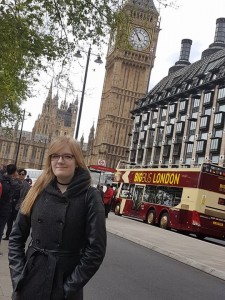 From there we walked to Adelphi theater where they had a musical called kinky boots, we already knew from home that it looked good and that we wanted to watch it. On the way we went by a little cute Japanese pastry shop, the cakes looked so weird almost like soap, so of cause we had to buy one just to try it.
In Adelphi Theater we bought tickets to 2:30, the clock were around 12, so we had two hours to explore borough market. It was so beautiful! They had all these weird and amazing things. We just walked around looking at all the cakes and weird fruit. Walking around we saw this award winning fish and chips shop, and bought a box that we shared. After eating we bought a lemon pie that we shared on London Bridge while looking over at Tower Bridge, it was so amazing. Almost like a movie.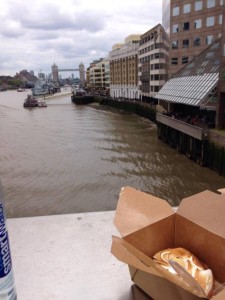 We had timed it so we were back at Adelphi theater 2 o'clock, but on the way there the tube was packed full of people and a child in wheelchair.. But when it was time for us to get out, the door would not open where we was.. So like in a action movie we needed to run through the wagon to the next door, with people trying to make room for us, almost jumping over the child in the wheel chair. I was the first one to be out, so I turned around to look if Mette were with me, and I just see Mette, still in the air and the doors closing right behind her. It is almost as if it happened in slow motion, taken from a movie, we just laugh for a while and then go on to the theater.
Because we didn't want to pay a fortune for the tickets, we literally couldn't be further away, we were on the last row, on the third floor and kind of to the side, but it was not too bad. We got a good look at the tops of their head because we almost saw all of it from the top, but it was really good. The singers were amazing and the story too, we both enjoyed it a lot.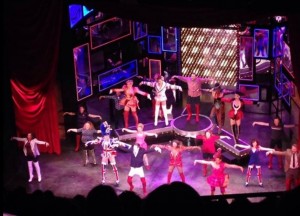 We wanted to visit Chinatown after, so we went to SoHo, but couldn't really find the Chinese part. But we were quite close to Covenant garden so we went there instead, it very beautiful. Unfortunately there was packed full of people so we nearly couldn't get around, but it was still really nice and beautiful.
We were quite hungry so we took the tube to Piccadilly Circus, were we wandered around for a bit.. suddenly I saw something in the corner of my eye, NORDIC BAKERY.. so of cause  we went in there and looked at all the stuff, and talked about everything they had done wrong. It was very fun to see what they had called rye bread, the different cakes, and see how many things we could recognize.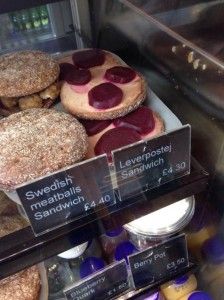 When we were done we went to a restaurant to get some food (it was very cheap), it was not the most amazing thing ever, but it was okay.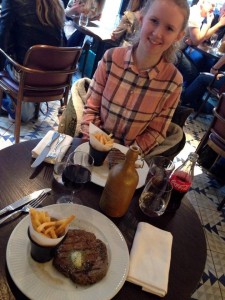 Suddenly we were quite late, but we still wanted to walk through Green Park and St. James Park on the way back, so we took the tube to Green Park, and walked from there to the bus, so we were maybe 10 minutes late (but still not the last to arrive).
I slept most of the way back, and we home again around 1 am.
30
Today I woke up at 8 or 9 and was just super tired, so I just sat in my bed eating chocolate and watching Netflix for like two hours.. When I finally got up and hopped in the shower, I heard some of the others was talking about going to KFC. I did not just want to sit at home all day so I went with them, I had never been in a KFC before, so it was quite fun to see one. After we went to Sainsbury to buy some food. I bought a lot, also a meal for Mette and me because she was not feeling well.. In London she wasn't feel good either.. After I got sick the first day, it has not gotten better, I have gotten a full on cold. And I have managed to get almost everyone sick as well, sometimes I can hear them cough through the walls, and we talk about how I am spreading my sickness. But Mette is feeling the worst, as she easily gets throat infections.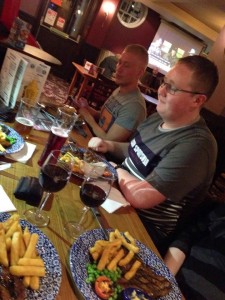 The first day Kadri had told us that we should try the Sunday roast (don't quite know what it is), and that every bar had it. So of cause we wanted to try for ourselves. Only problem was that we couldn't find anywhere, where they actually had it.. so after going to a lot of different bars, we found one that looked really nice (widow frost) and went in there.
The green dragon was huge, and it cost like nothing, I got 8 oz. rump steak, fries and some greens + a drink (I chose red wine), FOR 9 POUNDS. They also had 2 pitchers for 12 pounds and if you gave 1 pound more for each you got double alcohol. Sooo we had a good time there..
After the widow frost we went to a karaoke bar where we performed to pinakolada song, it was fun, but unfortunetly all bars closed at 12, so we were home at 12:30 where we just sat and drank a little and then went to bed.
1.
Today we didn't really have any plans.. Even though Mette and I had talked about going to Sherwood forest, but I could already see the day before that she wouldn't be well enough to go. So it kind of sucked that I didn't got to go, but I understand as she looked very much dead and not fit to go anywhere.
Some of the others were talking about going to the city to eat and shop a little, but I would rather wait till the evening and then go all the way to Nottingham, a couple of the wanted to go with, but already before they left I could see that when they got back they didn't want to go anywhere.
When they were gone, I made it my mission to at least get Mette up from the bed. She agreed to walk with me in the woods around the school. We started walking (this time I actually remembered to bring my camera), the woods were beautiful with a lot of small paths to walk. Only thing I didn't take in to account was that this forest is so fricking big that it is impossible to just walk and expect that you will end up somewhere near where you begin. So if Mette didn't have had an actually working GPS in her phone we would probably still be walking around.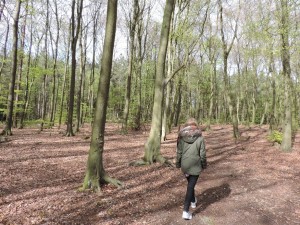 Back home I ate dinner and watched half a movie before writing my diary, and then going to bed around 0:30 or 1, like all the other days.
2.
Today I were quite stressed getting out the door, I don't think there were really any reason, because I was not in a hurry or anything.. But I managed to forget my bag with all my knives, shoes and chefs whites. Of cause I remembered right when I sat down in the bus and it was too late to turn around.
Luckily I could borrow it all at the school, but it was still quite embarrassing to forget almost everything..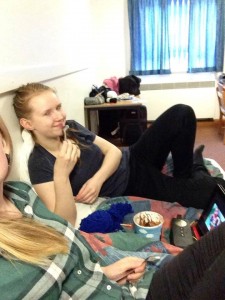 I am in the relish restaurant today. I think there were like 10 people, so I didn't have anything to do. I made dough for some bread we are using tomorrow, and I cut tomatoes, I didn't really do anything else.
When I got back Mette and I were both super hungry, and the others were down to get tattooed (again). So we went to Sainsbury quite hungry, which was a bad idea, cause when we finally got to the checkout, we had bought way to much.. And almost half of it were desserts.
The fridge is so small and we are so many people, so to get food in there is kind of like playing Tetris or something like that. And both of the ovens were in use, so we started with sharing a Ben and Jerrys ice-cream while watching a movie, and then eating the steak as dessert.
3.
Today was quite fun, I was in relish again, but I didn't get person to follow around this time, I got my own tasks.
I started with cutting some fish to make these kind of fish fingers, and then panneing them. After that I needed to make these potato skins, where I need to cut them in half, hollow them out, mix with sweated red onions and cheese and then put the mixture back in the potatoes skin.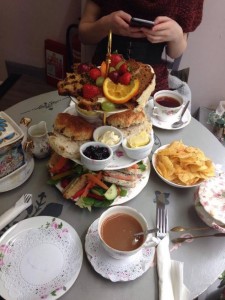 Then I got home, Mette and I went to Nottingham to get afternoon tea in this little cute place. The tea and food was fine, and the decorations was fine.. But the woman who owned it was amazing, she talked with us for a bit, and the second she found out we were chef and confectioner she immediately said we could come and make cakes for her. She was so nice! Again I was amazed by how nice people were.
When I got home I played some UNO with the other students and just chilled.
4.
Today I went to school super early, I were there 45 min before, so I could go down to Mandy to give her the gift I brought and say thanks for a good week (as she is the teacher I have been talking most with).
In refined I was given a person to follow around, we were in charge of the greens. Unfortunately he was kind of shy or something like that.. so he was not good at giving me tasks to do, I kind of had to keep asking him if I could do stuff or help him in any ways (and it was not like there wasn't anything to do), so it was kind of boring but okay.
When I got home most of the others went for afternoon tea, but I was really tired (Mette was as we ll), so I bought a cupcake and we just sat outside the coffee shop where we chilled and talked. The weather was just super nice, and after a long day that was just what was needed.
In the evening we had a little meeting with our teacher (who was back now), after that we just talked and I braided another girls hair.
I am just super tired today, so I think I will go to bed early, unfortunately we need to make a presentation for tomorrow about what we have learned, so it will probably be quite late.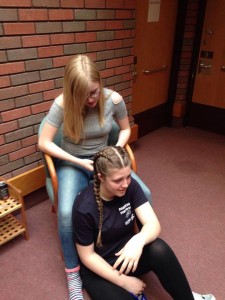 5.
Today I had the day off. Therefore, I could go horseback riding with some of the others!
A lot of the others (Sara, Christopher, Julie and Sisse), had gone out to be tattooed some days ago (multiple times). And in that time Julie had talked a lot with the tattoo artist, who said that his wife had a horse tracking center that we could come visit and ride for free.
We had to get up pretty early, but it was worth it, we took a bus to Mansfield bus station, and then a cap from there. We arrived in pretty good time, so we just sat and looked at the beautiful scenery and fed the lamas.
Before getting on the horses we had to sign a lot of papers, then we each got a helmet and a yellow or pink vest. Then they assigned us each a horse, they were all pretty big, but one of them were just huge. Of cause I got that one.. When standing beside it, its shoulder was higher than me (and I am 170), and it was 26 years old. I was so amazed, both by the sheer size but also the age of the animal, but it was also kind of terrifying, the thought that if the horse decided to kick me of, there would not be anything to do and there was at least 2 meters down.
They started by dragging the horses through Edwin stone, where robin hood used to live, then in to the Sherwood forest. The dragged us some way, then we got to ride without help. They took us to the major oak also famous in the robin hood stories, it was amazing. We rode around for 1 and a half hour. Then the taxi picked us up and drove us back to the school again, where we had 5 min to get in some clothes that didn't smell like horse.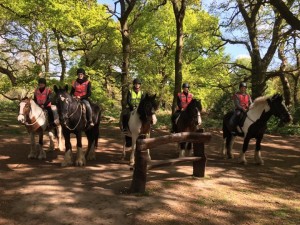 Then we all went to refined where we ate with our teacher, Kadri and her boss, after that we had to do a short presentation for them that we had prepared.
When we got home again I packed all my stuff and got ready for the evening where we had to eat with our teacher at 19 o'clock, in a restaurant we had chosen beforehand.
We had talked about doing an all-nighter, because it was our last day and we had to go at 6 am in the morning. There was some who left with the teacher after eating, but the rest of us kept on partying. It is so weird in England, all the bars close at 00, then we got to the different clubs, that also all closed quite early, but it was still fun. I think we went to 4 or 5 different places, at 2 I went home with one of the others, while the others kept partying.
6.
I think I were in my bed at 2.30, and then I woke again at 4 when the others got home. And I had set the alarm to 5.. So about two hours of sleep.
The bus picked us up at 6, and we went to the airport. Luckily everybody got through security, I fed them all gum so they didn't smell like alcohol.
Everything went according to plan, the plane left on time, and I slept most of the way. We gathered one last time at the bag pick-up, and then went in different directions to meet family and friends again.