Monday 24/4: First day in England. We first got a tour of Portland and afterwards we had an info meeting about our trip and we met the other students from Germany, Estonia and Finland. After lunch, we had a tour of West Nutts in Mansfield. At 14:15 -16: 30, we should have lessons. The plan was that we should help the classroom, but we ended up listening and watching while the students were exams.
Tuesday 25/4: We took the bus for the first time to school and met Richard and 2 of the boys from his class. The rest were "sick". After 1.5 hours of driving, we ended up in Peek District which was their first national park. During the Second World War they also practiced to throw bombs against demolitions in Germany. We waited 18 km around the lake and when we finally had lunch, it started to snow. When we were back to school at 14:45 I went down town to buy in and raise money. The weather was filled with cities, snow and hail all day long. In the evening I used with them from Estonia and the rest of the class where we played games.
Wednesday 26/4: We were scheduled to meet at. 8:30 at school but 5 min was delayed as buses in England run as the wind blows. Luckily our teacher was also late, so when she arrived after 10 mins approx. We sat and talked and drank some coffee. Just around at. At 9:00 we drove from school and towards Peek distracted again but in a new area. There was very nice in the area and the view was amazing when we arrived at the Blue John Crystal Mine which is the only one in the world. The mine itself was not the largest but there was very high ceilings. We had a tour along with a class we followed. There were a total of 248 steps down and up again. When we finished the tour we were going home again so we got up at 13:45. The rest of the afternoon went to relax and arrange the internet. In the evening I brought Julie to the pub. (The Talbot) where we ate cob and chips and drank a few beers. In the end, we ended up watching movies on Netflix.
Thursday 27/4: We started playing in their sports hall. First a little general warming up and after this we should have a circular workout with 8-10 different exercises. After that, we ended up with 10 min basketball. The rest of the day went with different lessons in discipline, jail and other public services. We should have been out in kayak but we were canceled because we did not have a 6 week course … It was both Morten and I very disappointed. In the evening everyone went from Denmark to the talbot to listen to live music but it had been canceled after a while, we continued into the city and found some other cool clubs. Kl. At 23:30, Line, Mette, Mads and myself chose to go home after dancing our feet sore. From downtown to Portland college it cost only 9 pounds. We were the first to go home and after a while, the rest of the flock came but they had gotten apart.
Friday 28/4: It was only me today. We started at. 9:00 am in the gym with a little game. Here I found out that for exercise and sports, students are self-governing the hours so that they can develop their leadership skills. We stopped at 10:00 am when they had to wait so I had to go to school again at 1:00 pm where we were going to Sherwood Pines with a bunch of students on nieavu 1. Here we should do different collaborative exercises. Again, it was the students who ruled the show. The weather was really nice so it was really nice. The exercises were mostly about football. When we got home at school at 3:00 pm, I gave the hostess to James and said he should give it to the rest of the team. Here Jemas promised to write an email to Kadri that she should contact Morten and me as we still had not heard anything about week 2. For dinner, some of us took Pizza Hot. It was Sarah, Line, Morten, Chrisffor and myself. Afterwards we went to Sainsbury and bought. For example, I bought a Vodka so I could impress the girls from Estonia. When we got home, we met about the London trip. After the meeting, I watched Julie, our movie finished on Netflix.
Day 6 London
Saturday 29/4: 06:15 am. Called the alarm clock. We were going to drive at 7:00 am. With the same driver who picked us up in Luton when we arrived a week earlier. Then after an hour when everyone was pushed, we all of course had fallen asleep over us. But 7:10 am. And has 3.5 hours drive in front of us. Approx. 11:00 am We stand almost in front of Big Ben, which is actually surprisingly small. Hereafter people dropped into smaller groups. I chose to go with Line, Sisse, Julie and Mads. We started to walk around and look. We found A Soviet store. Then we ended up in Chinatown when we were looking for a tattoo shop for Julie and Sarah. Here we bought some cakes but they were really boring in the taste. After a while we found a certain tattoo shop that we thought only cost 30 pounds from start but it turned out that it was 80 pounds. So we went on and ended up on a street where there were 2-3 different shops. One of the shops had some underwear that the girls would look at. We had talked Danish for a while when one of the staff goes over to us and says in Danish that we just have to say so she will probably help. When we were finished we were looking for a cake store where Julie hoped to become a student. When we finally after 45 min walk, we found it but the boss was of course not.
Day 6 London
Her after we took the metro to the end station elephant and castle when we had heard that everything was cheaper but it did not fit completely. Her we found another store, where they also spoke Danish. Her after we went to the center again and I was tried after a long day, time when I walked around for myself and relaxed, along with Sisse, Julie, Mads and myself, we took down and tried The London Dungton. It was really an experience as we only paid 15 pounds because it usually costs 30 pounds. Her after went Julie, Mads and myself on a resturant, where we got the best serving and delicious steak. But we had too meet at the bus 09:00 pm. But there we were just just gone from the place, so we were 10-15 min late. We ran all want we could but we got lost so we had too get help from a homeless. When he had shown us a shortcut, we said goodbye and he went back the same way, but I decided he should have money to help us. So I ran back and found him. I chose to give him 5 pounds and said thank you for the help. Till that he answered: Do you know what this means for me? No, I said. That means I get food tomorrow. I was completely out of words and got tears in my eyes. It was an incredible encounter with a homeless who hit me in the heart. At 9:15 pm, I reached as the last one of our bus and we finally turned our nose home to Mansfield after a fantastic day in London.
Day 7
Sunday 30/4: Sunday was the first day I really could relax. So I slept "completely" till 8:00 am. So I chose to spend a couple of hours getting all the pictures on my pc and facebook. Then I spent a couple of hours watching a little netflix and enjoying talking to the other Danes. So Sisse, Line, Mads and myself chose to go down to the local KFC and have breakfast. Afterwards, we chose to move on to Sainsbury, almost next to, and buy some candy. After a while, we get out again and cross the bus. Unfortunately, we are waiting for a long time and when it finally comes, it's crowded with people. When we get home to Portland, I get into the room to sleep for a couple of hours, as I am totally outdated after our London trip. After a couple of hours, I'm woken up by Julie who will hear who wants to eat later, as Julie, Sarah and Christoffer have been in Mansfield and become tattooed all day. 07:30 pm Chrisoffer, Mads, Line, Julie and myself go to town to eat and drink a little. Eventually we find a nice place which is half a bar / resturant. Delicious steak and a go beer. Afterwards we buy 2 cans of alcohol and cozy drinks. Hereafter Chrisoffer and Julie are home and the other 3 take on the karaoke bar, where I sing a "nice" dyo together with Line. The song was called Pinaqulatte. 11:30 pm we will continue but everything is about to close together with Christmas as it has come back and Chrisoffer we find on the road, we go home and drink for an hour and then we go to bed at 3:00 am
Monday 1/5: Here in England, 1/5 is a holiday so we were free from our obligations. I slept till at.
10:30 and just sat down while I saw netflix and ate a little breakfast. Here after chose Christoffer, Mads, Julie and I chose to go to Mansfield's center and shop. Here I came to spend 100 pounds on a fat jacket and some metal music. We end up spending an hour in the center and then head to Sainsbury and buy dinner. From there we just want to go home but the bus only runs once a hour on a holiday obviously so we end up booking a taxi but it only has room for 4 and we have become 5 in between when we ran into one of the girls From Estonia, which had also bought in. So I choose to sacrifice myself and go home on my feet. The trip is about 3 km so it's not that bad. When I finally get home, I just relax and watch a movie on Netflix with Julie. When it's done, we put a new blow on and now both Line and Christoffer are in, so we just sit and enjoy the movie until 23:00 and drop here to bed.
Day 9
Tuesday 2/5: First day at Mansfield BID. We meet at 09:00 to Daryl, which we will follow until Friday. We start by showing us the fire escape and the emergency exit. Hereafter we went into a small room and with a cup of coffee in hand, we learned to get to know each other a little. Then he comes with a piece of paper that we need to sign where we are from, we have confidentiality. We came to see registers and images of criminals, addicts and homeless people. Then we have reached the lunch break, which is apparently an entire hour in England. But at least we end up sitting on the Sup Way. The afternoon goes on to train radio cumminion and the phonetic attack and finally, we go down to a sports store and watch their cctv surveillance because they suspect thieves. We finish at. 17:00, where we randomly meet any of the others in front of the building. Hereafter we go in 3 different groups, as people want something different. I start by joining Julie and Christoffer through the shopping center and looking out for a while, I choose to go for myself when I want to buy for dinner but I was in such a good mood that I ended up The talbot after shopping for a couple of hours and just sitting and enjoying myself in my own little world. When I get home to Portland, I end up watching movies with Julie and Line.
Wednesday 3/5: We meet at 9:20 when buses in England run as the wind blows.
Fortunately, it was not a problem for Daryl. We started with a cup of coffee and at 10:00 we are down in their CCTV center and have an hour to see and ask all that falls us in. Afterwards on our way home, we go to a tesso and see some of their surveillance and their detention room. At the end of the day, we write a report about 2 different thieves in Tesso and leave at. 16:30. So I'm back in Sainsbury and buy dinner and again to follow up on the good night at the Talbot, and I'll go back there for a couple of hours. When I get home at. At 21:00 I talk to Karoliine from Estonia most of the evening.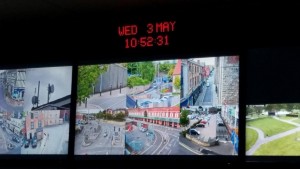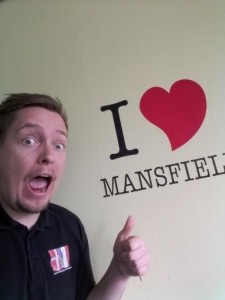 Day 11
Thursday 4/5: We meet this time at. 9:00 AM and got delivered radios so we can get a feel of the entire area's stores radio cummination. The plan is that we go out and go round the city, next to his 4 extra video camara installed in some different stores. After we had been in the first store, we received a message that 100m from us, a 73-year-old demented lady was missing from her husband in their shopping. We spend a little hours looking for her in the area but without luck. Finally, we're lucky to get a message that she has been found in a clothing store in the center. After lunch, we check the last 3 stores and are ready for at. 15:00 to have a tour of their shopping center. It takes about half an hour. This time we got free at. 16:00 when we met some of our friends earlier in the day, so we could have some time with them. The evening goes with a meeting at 19:00 when Mette has returned and otherwise the rest of the evening goes with pure relaxation as everyone saves energy to give us the gas Friday night / night.
Friday 5/5: Last day at Mansfield BID. BID stands for the Business Improvement District. We start at. 9:00 with morning coffee and cakes that Morten and I had bought earlier in the morning, so we could give something back to the office, as everyone had been so sweet to us. Then we have to write the last reports and drop down to his wife's store "hops in a bottle" and buy some specialty beers. Kl. 11:20 – 40 we sit at the office and drink coffee and eat cake while we are starting to say goodbye to each other when we at 12:15 am to go to West Nutts and eat at their fine resturant with Kadri and her boss. After the meal, we each have a 5 minute treaty in English about our trip to our friends and Kadri and her boss. Then we get the afternoon to pack together at. 18:15 we go into town and eat and just enjoy ourselves in a couple of hours. Hereafter, any of us choose to move on in the city. It was Line, Julie, Sarah, Mads, Christoffe, myself and then came Karoliine from Estonia and Jasmina from Finland. We were out all night where we danced to our feet were sore and enjoyed ourselves for the last time in Mansfield.
Day 13
The last of us came home at. 05:00 and when the bus drove to the airport at 6:15 pm so we chose to sit in the tv lounge and drink coffee and talked until we were leaving. We end up driving at. 06:20 and against Luton. It takes about 2 hours so then at 9:00 we check our bagace and go through the security check and relax for a few hours before flying home to little Denmark. We land at. 14:05 and pick up bagace, after which we say goodbye to each other. Hereafter we go out to each of our families and go home.