Sunday 23/4
Nothing much happen today. We all meet up with our teacher Mette at Kastrup airport so that we all could get our stuff checkt in and had to the security control together. We actually ended up getting allow to go in the fast track lane at the control. All together we had a nice and fun trip from Denmark to England.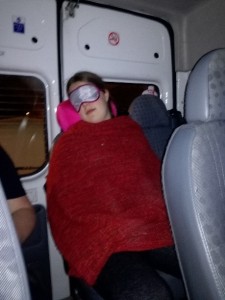 Monday 24/4
This was our first day here. We had to meet up in front of our lodging at 9 am. Here we went for a quick tour around the campus to see the reception, the farm, the lodgings, the kitchen and cantina, the coffee shop and the smoking areas. It was a tour for both us Danish guys, the Germans and the Estonians.
We went over to a conference room to have the meeting with all the information we needed. About busses, trains, shopping, food, times for the school, schedules, maps, sofety information and so forth.
Me, Mette, the nutritionists, and the hospitality got the rest of the day off. We had to meet the next morning to get our schedules and to be shown where we had to work. So, we all decided to walk to Mansfield the nearby town.  We had to get cash so we could by the bus card "megaride". A card that works for a week so you can ride the bus as much as you want. It began to rain and it rained half the walk with was around 30min. but it was fun, beautiful and different. We just went to the supermarket to get food for everybody that same evening and to get cash.
We made burgers for us all to enjoy.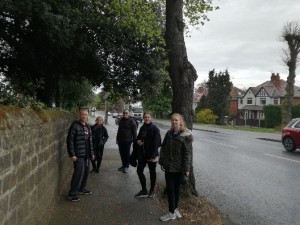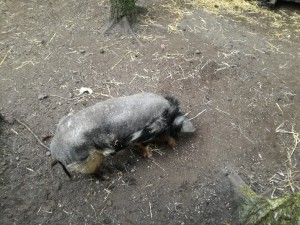 Tuesday 25/4
Today we had our first day in the kitchen. We had to make a list of ingredients, a working schedule, recipes and price calculation on the bread and cakes we were going to make.
We meet from 9-14 in the kitchen in the bakery room. We make coked custard and put some flour in the fridge so it would be cold for the next day to make linsetart dough. They had this nice cooling machine that could cool our custard in 1 hour instead of the normally three hours.
A big bunch of us also went to Mansfield to the shopping center first seasons to shop and look around to see what they have. We love the 1 pund shop that they had. You could buy everything there, food, accessorize, baking stuff, shoes and so forth.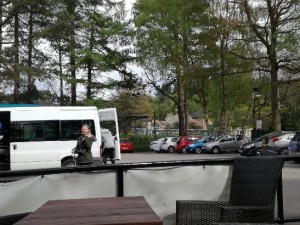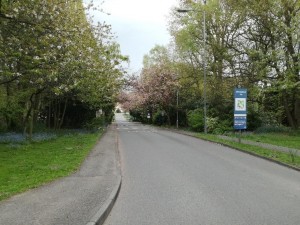 Wednesday 26/4
Today we almost got the internet fixed. Some of us still had some problems with getting internet on our computers but we managed.  Until today we all had to go to the coffee shop or outside our lodging to go on the internet.
In the kitchen, we made linsetart bottoms, tempered chocolate, crème custard, whipt creame for the medals we were going to make today.
We also made Danish pastry 100 pieces for the 2020 the next morning.
Me and Michael went to talbots to have a beer and try the fish and chips. And had.
So we work from 6-17.30 to be done and reedy for the next morning.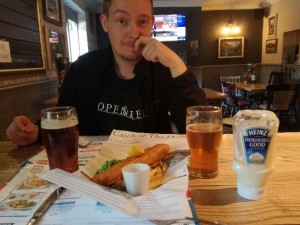 Thursday 27/4
Today we worked from 6 so the Danishes would be done at 7 a clock. They had a big meeting called 2020 for all the fundraisers for the school and for some companies. It was quite interesting to watch.
After the meeting and cleaning we had to go down to the coffee shop to sit and sell our medals from the day before. We had 3 different kinds. Forrest fruit, orange and raspberry. At around 14.30 we went to the kitchen to coordinate out next week work with recipes, calculations and ingredients list.
This was the day that we had our first night out in Mansfield. We went to this pub called talbots and it was fun and then we just went out in the night in Mansfield to explore.
Today we also got a curse in how to used the oven by a chef. We learnt a lot about what the oven can actually do.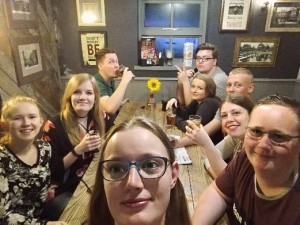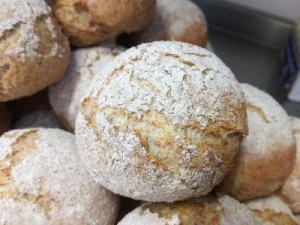 Friday 28/4
Today we had no work because of some of the long days we had like Wednesday and Thursday. So a group  of us decided to go Nottingham to see the city and there city of caves witch is some caves under Nottingham they used in many years for skinning, leather making and safety from the Nazis under WW2. It was quite interesting se see and hear about. We also had a lot of fun finding penis shaped benches and decorations on cake that looked like sperm cells.
That evening we watch movies and slept for a long time. Me and Mads had agreed to eat dinner together so we made pasta and bolognas.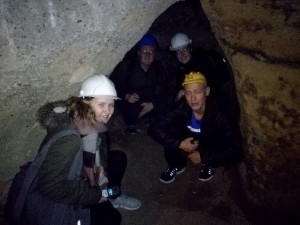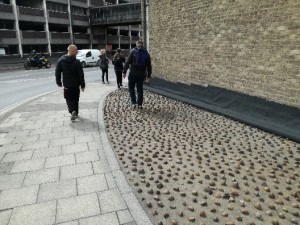 Saturday 29/4
Today er godt picked Up på Craig at 7 a clock to drive to London. We where Therese around 11 am. We went around in small groups. I went White Michael, Sisse, Mads and Sarah. We went to the Soho distrect to find tattoo apps, vane shops, food, shopping and just to se the distrect. IT was Manly becsuse os the 2 stores "M&M World" and "crums and Dollys". Om the way we Saw a weird but fin Street artist and we for a picture with some police men. Me, Sisse, Mads and Michael Aldo went to se the London dungeun. Thats was quite fin and the actors was reallyd food and anthusisstic.
We Also went to a underwear shop where Therese was a danish girl working while She was studying in England. And we meget some english poeple ego could speak a little danish.
We mostly Walker around and only took the metro once.
Me, Michael and Mads went to this pub in the Soho distrect to set a food steak.
The food was so food thats er forgot the time and had to run backup to match the bus backup to collage.
We actilly for a little lost so er had to hey direktionssekretær by a homaless Guy. And we gave him 15punds for hos trouble.
Went we came home we went strait to bed after a Long day og walking og impresions.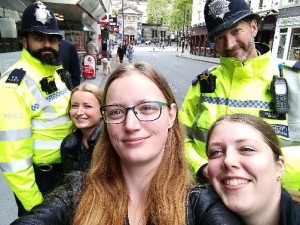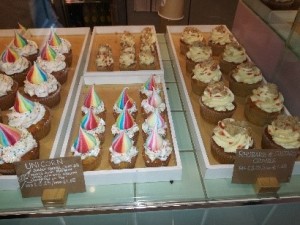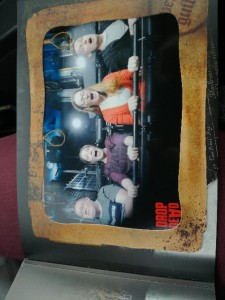 Sunday 30/4
Sunday was just a relaxing day without too much stuff to do.
Me, sarah and Christopher went to Mansfield to get a tattoo. In the evening me, Michael, Christopher, mads and line went to the widow frost to have some dinner and a couple of drinks. I had the 14oz rumpsteak and then we bought some pithers of drinks. Both me and line had a glass of red wine with our steak and had a lot of fun whit that.
Me and Christopher also meet and had a beer with some local guys called Daniel and jake. They were quite helpful and friendly.
Monday 1/5
Today we had the day of because it's a holleday in England like in Denmark. We took a trip to Mansfield til the first seasons shopping center and afterwards went to burgerking, found a place to eat on Friday and then Sainsbury to shop som food. Me micheal, Christopher and line watch a movie in michaels room.
I aet gnocchi, tomato sauce and chorizo for dinner.
Tuesday 2/5
Today we made 3 different kinds of cakes in the kitchen. Dreamcake, Victoria sponge covored in colored buttercream frosting and you know, that one. They loved all the cakes. Our Victoria sponge was sold as a whole in the coffee shop so that was very nice. I bought a big 14oz steak at the supermerkedts buther and then some frozen hash browns and some garlic, mushroom sauce. In the mid day we took a trip to Mansfield to have sarah tattood. Here the tattooist Paul ask us if we liked to ride ans if we would want a ride at his and his wifes horse trekking center.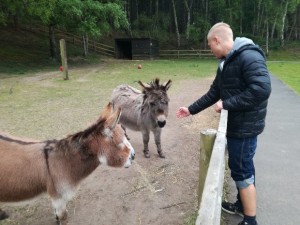 Wednesday 3/5
today was a okay day. We went to the kitchen to make 2 kinds of muffins. One was vanilla, mint rainbow muffin and the other a choc, cherry coca cola muffin. The choc cherry was delicious but the vanilla was weird. The vanilla they use over there is a paste that tastes kind of burned.
After our day in the kitchen, me, Christopher, Mads and Sisse went to the tattoo shop in Mansfield called Monster shop. Sisse had an appointment for an elephant tattoo. I had a time for tomorrow but they had an opening today so I got a horror cupcake tattooed right after Sisse. It was my first tattoo that had to be filled out with colors and it hurt and I'm normally not a wuss. I had gnocchi, tomato sauce and chorizo again.
Thursday 4/5
Today we just made ryebrad and burgerbuns in the kitchen and not much ells. It was a very short day. And for the rest of the day I went to Mansfield to train , I took a bike ride in the surrounding wood and then just back home so relax with a movie and sleep.
Friday 5/5
Today we started the day with a nice 1,5-hour long horse ride in the Sherwood forest. We rode down to see the major oak with is actually illegal. We got this horse ride for free from the tattooist Paul and his wife Karin.
Later this day we went to meet the rest at the lodging so we could take the bus together to west notts collage where we had to eat lunch at Refined. Its they're nice school restaurant. After lunch we went to a room to tell Kadri and David about our trip and experiences with a PowerPoint.
We had the rest of the day of until 7 a clock where we had to be and the restaurant Frankie's and Benny's where we had booked a table for 10.
We went out drinking and singing after dinner.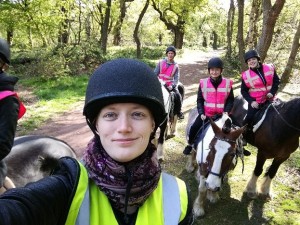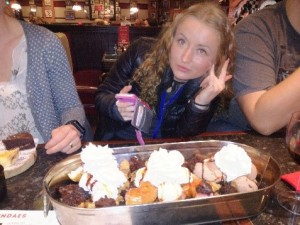 Saturday 6/5
This was the day for us to go home, back to Denmark.
I dint fell like it at all. I wanted to stay in England and at Portland for at least another week or so.
Me and Christopher was partying with some of the others Friday night, and we dint get to bed until around 3-4 a clock. The others waked us up at 6.05 am and the bus was leaving at 6.15 so we where in a hurry to be done. We had a hard time packing our stuff but we made it and we sleept in the bus all the way to Luton airport.